Due to the rain forecasted for tomorrow (January 12th), Ski Club will be cancelled.

Good luck tonight to our YCS Athletes! JV and Varsity Boys Basketball face Livonia tonight at YCS. JV and Varsity Girls Basketball face Livonia tonight at Livonia. Varsity Indoor Track and Field have a meet tonight at Houghton College. Links and game times can be found on our athletics page.

Good luck to our Varsity Swimming and Diving team tonight as they take on the Avon Braves! The meet is at YCS and starts at 5:00PM.
Due to the expected weather and possible unsafe road conditions. The York Central School District will be closed on Friday December 23rd. This includes all activities and events. Have a warm and safe holiday.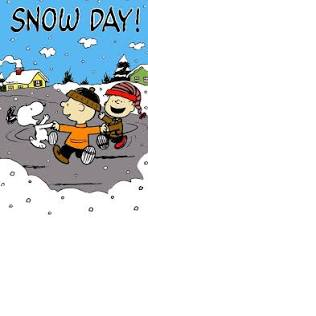 The Varsity Girls and Boys Basketball games that were scheduled for Friday, December 23rd have been moved to Thursday, December 22nd. The girls will play at 5:30pm and the boys will play at 7:00pm.

Tonights Varsity Swimming and Diving meet has been postponed!

Good evening everyone! Our very own Kyan Tiede is up for the Golden Ball award in the Batavia Daily News for his performance this fall season. Go vote for him using the link below! rmd.me/FtPlRSu9UNB

Be Our Guest! YCS Musical Productions Presents Disney's Beauty and the Beast this Thursday, Friday and Saturday Dec 1st-3rd at 7pm. There will also be a Matinee at 2pm on Dec 3rd. Tickets are $10 a person and will be available at the door.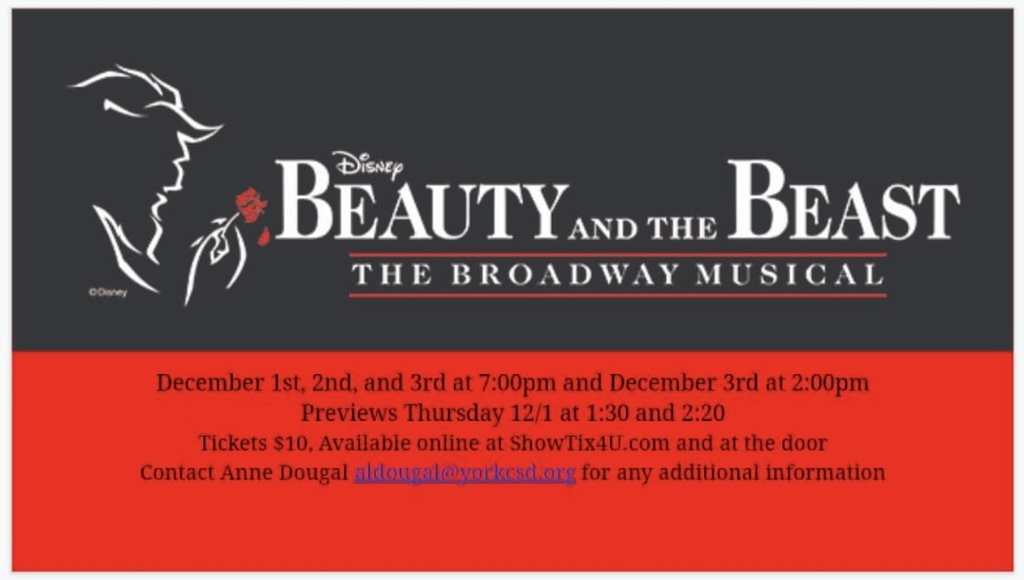 The JV/Varsity Girls Basketball games scheduled for today have been postponed! The games will be played Friday, December 9th in Williamson. JV tip off will be at 5:30PM and Varsity will tip off at 7:00PM.

Happy Veterans Day 🇺🇸

From everyone at York Central Schools we would like to thank all of the Veterans for coming out to the YCS Veterans Day Celebration. Today would not have been possible without you and all of your sacrifices. Thank you to everyone who took the time to help make this event so special. Happy Veterans Day, and thank you all for your service.

Just a reminder our annual YCS Veterans Day Celebration will be Thursday, November 10th. Our assembly will begin at 10 AM. Even if you haven't responded, Veterans are invited to attend a morning coffee hour at 9:15 and then stay to parade in at the beginning of the assembly. We are excited to be able to bring this tradition back to YCS after a 2-year pause. Our school building will be immersed in red, white, and blue. You are encouraged to wear those colors or clothing with the American flag. Scouts are encouraged to wear their uniforms. Thank you for your continued support of this event, we look forward to seeing you Thursday. The YCS Veterans Day Committee

Good Afternoon, The "Meet the Coaches Night" originally scheduled for Wednesday, November 2nd has been postponed until Thursday, November 3rd at 7:00pm due to theYCS Varsity Girls Volleyball team advancing to Semi-Finals. We look forward to seeing you all Thursday night. Go Knights!

Pre-sale tickets for YCS's production of Disney's Beauty and the Beast on December 1st, 2nd and 3rd are now available to order!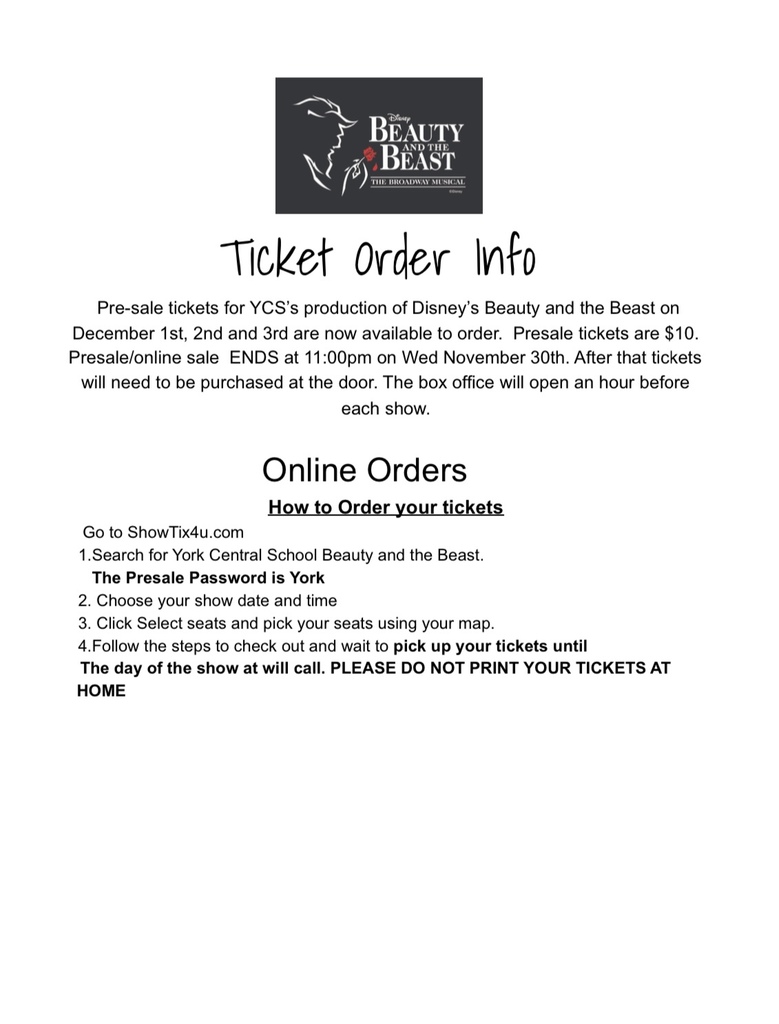 Congratulations to York/Pavilion girl's soccer for their win over Bloomfield in tonight's Section V Class C1 first-round game. Peytyn Geer scored in overtime to advance the Lady Knights to the next round of sectionals.

REMINDER: Tomorrow is an early release day for all students!

Tonight's varsity girls soccer game will be played in Pavilion, NOT at YCS. Game time is 7:00PM and the Pavilion Seniors will be recognized before the game!

Tonight's Varsity Girls Soccer game will be played at 6:00PM at YCS!

Tonight will be the Homecoming Varsity Football game! 6:30PM vs. Oakfield-Alabama/Elba!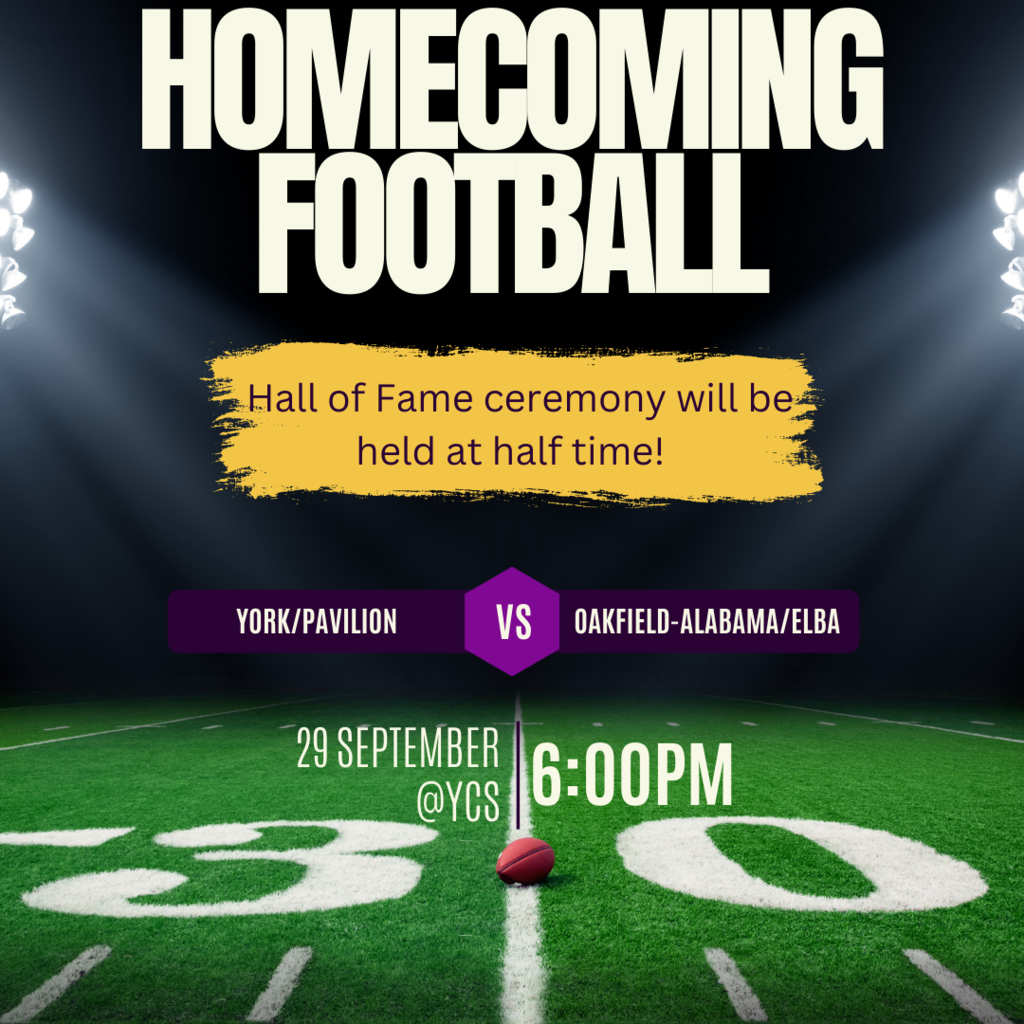 The 2022 Hall of Fame Inductee Ceremony will be held tonight at half time of the York/Pavilion vs. Oakfield- Alabama/Ebla Homecoming football game.